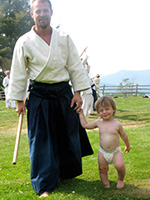 Benjamin Pincus Sensei- Rokudan (6th degree black belt) Chief Instructor and Executive Director of the ACV Youth Program
Benjamin Pincus is the Chief Instructor and Executive Director of Aikido of Champlain Valley. He began Aikido in 1982 at the age of 13, and received his 6th degree black belt through the United States Aikido Federation and Hombu dojo, in Tokyo, Japan. One of the only fully fully certified Aikido instructors (Shidoin) in Vermont, he is a full-time professional teacher, devoting his life to teaching traditional martial arts and the growth of his personal practice. He and his wife are raising two boys, ages 4 and 8.
"Teaching children is a blessing. Often, I take my practice too seriously, and kids remind me that I need to leaven my Aikido with joy and laughter.  Nothing is more magical than seeing a child discover their center and power through the practice of Aikido. I also love that the philosophy of Aikido provides many lessons on how to live a peaceful, compassionate  and mindful life for students of all ages."
---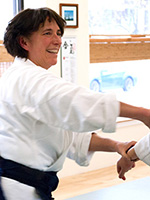 Karen Clark- Sandan  (3rd degree black belt)

Karen began practicing aikido in 1986 at the Aikido Center of Atlanta, where she eventually met her husband, Chris Carfaro. In 1993, they helped found Dogwood Aikikai, where she was strongly influenced by M. Kanai Shihan, 8th Dan (d. 2004) and Y. Yamada Shihan, 8th Dan. In 2004, Karen and her family moved to Vermont and began studying with Benjamin Pincus Sensei at Aikido of Champlain Valley.
Karen is privileged to have been a part of many children's Aikido programs through the years. From assisting with the kids class at the Aikido Center of Atlanta to helping form the children's Aikido program at Dogwood Aikikai and now with Pincus Sensei, her experiences have been rich and varied. Karen's three children have all practiced aikido, providing additional incentive for her to stay involved with the programs and to teach Aikido in the local schools.
"From the first time stepping on the mat, I have loved Aikido. The power and the blend, seemingly contradictory and yet exhilarating! One of my favorite quotes, from Peggy O'mara,  defines my interactions with children: "The way we talk to our kids becomes their inner voice."'
"I think that I am drawn to teaching children because it is like walking a tight rope. You never know which way the energy is going to flow so you have to stay flexible and fluid and remember to smile."
---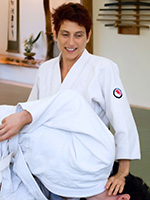 Michelle Lefkowitz – Shodan (1st degree black belt)

Michelle came to Aikido with a background in Yoga and Contact Improvisational dance.  Michelle is a certified Kripalu Yoga teacher with over 38 years of daily practice, and also taught and trained Contact Dance for over 15 years.  In her business, "Playing on Purpose", she also teaches hula hooping, juggling and embodied play to children and adults.  Michelle's degree is in Theatre and she also does performance art and Children's Storytelling.  She is the mother of two grown children and three grandchildren.
"I love Aikido because it teaches me over and over to keep focusing inward, to deepen into my own center, to relax in the face of fear, to hold my center even when thrown, and to harmonize with the difficult. Over and over I learn what I project outward is often something I need to face in myself, and the experience is embodied and quicker than thought."
"I'm grateful to teach Aikido to young children.  I love encouraging them through the discipline of Aikido and through play to feel their way into their own bodies.  I also love that Aikido is not a competitive sport and that the harmonious principles of Aikido teaches the children to work together and help each other.  I also appreciate that the children have an opportunity to be physical with each other.  Research bears out how important touch is for all of us, but what a gift to watch children learn to keep each other safe while engaging in physical connection."
---
Danielle Pecor – 1st Kyu
Danielle began training at Aikido of Champlain Valley in 2005, at the age of 18 and began teaching the 5-6 year old class in 2012. "I love seeing how each child learns and grows when they train in Aikido.  We build connections with others and learn positive interactions through our training."