We have a large play area and family lounge available to children whose parents or other family members are actively training.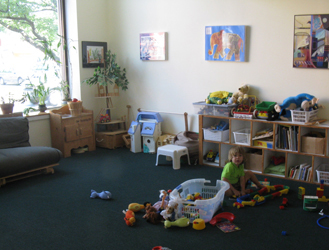 There are books, games, puzzles and other quiet activities for kids to enjoy while class is in session. There are some simple rules posted in the play space, and we ask parents and children to review the rules together before playing there.
If you are a parent whose children are taking the children's classes, please feel welcome to enjoy the family lounge while they practice! We have free WiFi.
If your child is too young to play by him- or herself, you are welcome to arrange for a childcare provider to come to the dojo with your family, or talk with other parents about sharing the supervision of your children.
We are a breastfeeding-friendly establishment, and also have diaper-changing tables in our restrooms. We are Safe Space for all families.
Have fun and enjoy coming to Aikido of Champlain Valley!