Flow: A Journal on Aikido and Integrative Conditioning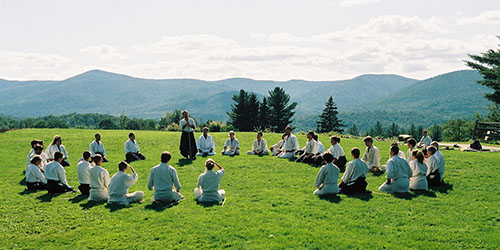 This journal is really two blogs rolled into one. The first is a personal investigation into Aikido as a spiritual path and a method of self-inquiry, and the second explores Integrative Conditioning. The latter posts will contain photos and videos demonstrating functional strength, flexibility, relaxation and mindfulness training applicable to martial artists and other seekers. I will also post Aikido "techniques of the month" and additional articles on our newsletter, Shoshin Online. If you would like to get notifications of new journal postings and links to additional videos and articles, please consider joining our newsletter.
108 Reasons Why I Practice Aikido
I began practicing Aikido with my father in 1982. I was a chubby, bored 12 year old searching for a sense of connection, and he was a filmmaker seeking an exciting form of exercise. In Aikido, we discovered a whole new way of perceiving the world that transformed our lives and the course of his terminal illness and death in 2013. In homage to my father, I am compiling one hundred and eight reasons why I practice and teach. "108" refers to the number of delusions or impediments that cloud the mind (Klesha in Sanskrit, Bonno 煩悩 in Japanese), preventing us from achieving true insight and understanding. Hopefully, our practice will help us sweat, breathe, laugh, and perhaps, even be a method of liberation from the defilements and delusions that we discover along the Way.
Monday, March 13th, 2017
…Nature is never spent; There lives the dearest freshness deep down things… Gerald Manley Hopkins You have waited for this moment. After driving past the aikido dojo many times, you finally summon the nerve to join. You wear your keikogi (uniform) for the first time; the unbleached cotton smells like fresh straw. You are startled […]
---
Monday, June 13th, 2016
We are driving to a party when my wife suddenly stops beside a body. He is lying on the steep hill on our dirt road in rural Vermont, almost a mile from our nearest neighbor. We cautiously approach. He lies amidst bracken fern, his white hair a sharp contrast with the green foliage. He has […]
---
Thursday, February 18th, 2016
Completely lacking talent or ambition, I commit myself to one thing, and one thing only… Basho Matsuo Summer grass – All that remains of Warrior's dreams Basho It is early in the morning and dew is heavy on the ground. The August sun touches the tips of the red pines with golden light. Every morning […]
---
Monday, April 27th, 2015
Should I stay or should I go now? If I go there will be trouble And if I stay it will be double So come on and let me know— The Clash You must concentrate upon and consecrate yourself wholly to each day, as though a fire were raging in your hair. — Samurai maxim, […]
---
Monday, April 27th, 2015
Why do herons stand on one leg? Some scientists believe unipedal rest allows the chilly bird to retain body heat, while others think that the one-legged profile makes the bird look less like juicy prey. By integrating balance and postural alignment, The Heron Pose also greatly benefits humans. Good balance and proper posture allow us […]
---
Wednesday, October 1st, 2014
When I was 4 years old, I almost drowned. It was winter, and there was a great hole in the ice on our pond. I recall pushing my golden retriever, Tapper, away from the water's edge; I was worried that he might break the ice, and instead I managed to propel myself into the water. […]
---
Thursday, December 26th, 2013
Some people claim to have been touched by the wings of angels; I guess that I could say that I was tossed, pinned and choked by a playful, spirited imp. I studied with Murashige Sensei at San Diego Aikikai, where he was the assistant instructor under Kazuo Chiba Sensei. I had moved to San Diego […]
---
Friday, November 29th, 2013
Empty-handed I entered the world Barefoot I leave it. My coming, my going – Two simple happenings That got entangled. (Poem brushed by Zen Roshi Kozan Ichikyo on the morning of his death, 1360) It is late at night, and my father is gone. I wander through my parent's house, looking for something […]
---
Thursday, October 17th, 2013
Last year was the 30th year since I began Aikido with my father. I was 13 at the time, and he was 44; I grudgingly joined him in classes at the Harvard Aikido club. A few months later we began to train at Kanai Sensei's dojo, New England Aikikai. By this time, I had fallen […]
---